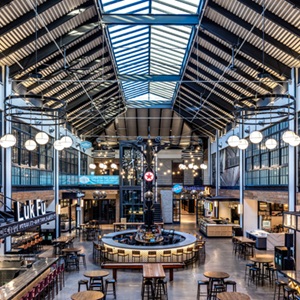 Football
Specials
The Market at Waterside District is on YOUR team! Every game on over 30+ HDTVs so you don't miss a minute of the action!
Join us for house Sunday games hosted by Nick Taylor complete with all the rowdy fun and giveaways!

Game Day Specials *
Drink Specials
$5 – Field Goal Shooters
(Go Big Blue, Laces Out, Flag on the Play, and The Audible)
Enjoy for just $3 when a field goal is made!
$5 – NFLIT (Long Island Tea)
$5.25 – 12oz Miller/Coors Bottles
$21 – Miller/Coors Buckets
$6.25 – 16oz Miller/Coors Drafts
$31.99 – 100oz Beer Tower (Miller/Coors) incl. 4 souvenir 16 oz cups
$16.99 – 50oz Beer Tower (Miller/Coors) incl. 2 souvenir 16 oz cups
Food
$12.99 – 10pc Wings
$19.99 – 20pc Wings
$11.99 - Pretzel Bite (choice of Cheese or Honey Mustard)
$11.99 - Pretzel Dog Bites
$11.99 - Cheese Burger Sliders
$7.99 - Spinach Dip with Chips
$7.99 - Dip Trio Sampler – Queso, Salsa, Guac
*Game Day Specials available during Monday, Thursday, and house Sunday night games*